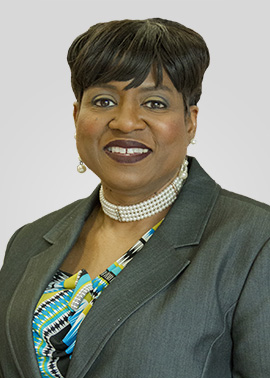 Regina Burgess-Terrell
Director of Human Resources
Regina Burgess-Terrell, a human resources professional with over 20 years experience, currently serves as the Director of Human Resources at the Capitol Region Education Council (CREC) in Hartford, Connecticut.  
Ms. Burgress-Terrell began her career at CREC in 2002 as the Assistant Director of Human Resources. In 2004, she was promoted to Managing Director of Human Resources, becoming primarily responsible for the day-to-day operations of the department. She assumed her current role as Director of Human Resources in 2008, increasing her responsibilities and scope to cover the Human Resources needs of the entire 2000+ employee organization.
Prior to joining CREC, Ms. Burgress-Terrell was employed as the Director of Human Resources at the Hebrew Home and Hospital and the Community Renewal Team.  
Ms. Burgress-Terrell graduated from Morgan State University with Bachelor of Science degrees in Business Administration and Marketing and from the University of Connecticut with her MBA.  She is also a graduate of the Quest 2003 class of Leadership Greater Hartford and successfully completed the Education Policy Fellowship Program from the Institute of Educational Leadership.  Ms. Burgress-Terrell is a member of the Society for Human Resource Management and previously served as a Board Member of the Connecticut Business Leaders Network and the Citadel of Love Tabernacle Church. 
Ms. Burgress-Terrell has been a workshop presenter on the topics of Supervision, Cultural Diversity, Resume and Interviewing, and Careers in Human Resources to high school students.  She serves as a mentor to young people continuing their education in higher institutions of learning.
Phone: (860) 509-3605 E-mail: rterrell@crec.org