Contact
Related Services
School Climate & Bullying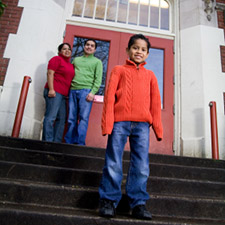 About Social Justice and Equity in Education
Professional Learning Modules
Providing equitable and excellent education for all students is a challenge that all educators need to tackle; school administrators need to consider how their school or district applies a social justice lens. Districts must examine and revise school policies, curriculum, and practices from a social justice perspective. CREC Modules build on the work of prominent researchers and scholars in the field of social justice to deliver the following workshops and provide coaching to teachers and administrators.
Module 1: Towards Equity: An Introduction to Social Justice Education-focuses on demographics, research, social political, and historical inequities; and the state of Connecticut.
Module 2: Analyzing and Responding to Discipline and Performance Data-focuses on analysis of performance data and action planning.
Module 3: Culturally Relevant Pedagogy and Instruction-focuses on pedagogy and resources.
Module 4: Evaluating Curricula for Inclusion and Bias-focuses on including multicultural content and resources and identifying and eradicating biases in curriculum and materials.
Module 5: Examining Systems and Policies for Equitable Practices-analysis of leadership practices, district and school policies, and student referrals and placement.
Module 6: Creating a Safe Haven in Schools for All Students-analysis of climate/data, and family school engagement and partnerships.
Equity Audits
CREC provides a comprehensive audit of social justice and equity audits within and across schools, districts, and educational organizations. The audit may include evaluation of practices, curriculum, instruction, climate and culture, policies, and/or experiences and the following groups: staff, parents, and students. The phases include representative focus group interviews, surveys, analysis, findings, recommendations and commendations, and an action plan tailored for the specific group, school, district, or organization. CREC education specialist work with the school, district, or organization personnel to co-create a tailored comprehensive social justice and equity action plan based on data collected from employees, parents, and students.
Curriculum Gap Analysis, Revision, and Implementation
CREC's Social Justice and Equity team can lead or support districts in conducting a gap analysis of current curricular and instructional practices; lead or assist districts in revising and implementing curriculum, and identifying best instructional practices based on a social justice and equity lens.
Executive Coaching for Leaders
Leaders will engage in applied strategies to deepen their understanding of Social Justice and Equity principles, practices, and programs.