Contact
Carole Kerkin
Managing Director of Early Childhood and Special Ed.
ckerkin@crec.org
(860) 509-3695
Testimonials
"Having our child among cultural diversity and making great friends has been wonderful. I love the way he is learning about differences. Our son talks about other kids in class by name rather than skin color. He describes their personality traits and who they are as a person, which is what matters."
- Canton Parent
About Early Beginnings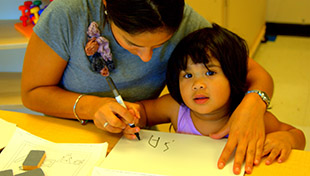 Early Beginnings is the preschool and kindergarten component of Open Choice, which enrolls Hartford students in kindergarten classrooms in suburban schools, as well as suburban students in Hartford Public Schools, at no cost to the family. The overarching goal of Open Choice Early Beginnings (OCEB) is to improve the academic success and integration of our youngest learners. OCEB preschool entry is a child's pathway to a comprehensive education preschool through high school graduation. Through combined efforts of all educators involved in OCEB, students' receive a well-rounded early childhood education.
Facts
As of October 2014, there were approximately 198 Preschool and kindergarten students enrolled in 45 schools in 22 towns.
The Early Beginnings program is a full day program open to children entering preschool and kindergarten.
Full day preschool and kindergarten.
Hartford residents may apply to attend public schools in the 25 surrounding suburbs.
Suburban residents may apply to attend a designated Hartford Public School.
Free transportation is available to all Hartford resident students and suburban resident kindergarten students residing in the RSCO transportation zone.
All students are encouraged to apply for the program, including students who are gifted and talented, English language learners and special education.
Benefits
The Open Choice Early Beginnings preschool experience will address high quality programming by including:
CT certified preschool teachers which are well-educated and well trained
Low child-teacher ratios (1 adult : 10 children)
Small group sizes in the classroom which are essential, creating an environment that allows for more personalized attention with the child to ensure their educational needs are being met
A focus on the development of the whole child, paying special attention to the child's cognitive, social, emotional and physical development
Participating School Districts
The Greater Hartford Region Open Choice Program is a free, interdistrict program managed by the Capitol Region Education Council (CREC). Open Choice districts that support Early Beginnings are
Avon
Berlin
Bolton
Canton
Cromwell
East Granby
East Windsor
Enfield
Farmington
Glastonbury
Granby
Hartford
Newington
Plainville
Simsbury
South Windsor
Southington
Suffield
West Hartford
Wethersfield
Windsor Locks