Menu
Contact
Applications
Related Services
Analysis of Recruitment and Selection Process
Review of Diversity and Equal Opportunity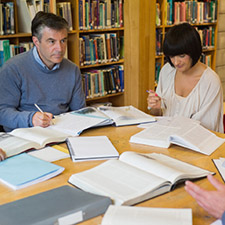 Leadership & Organization
Minority Teacher Recruitment
The Minority Teacher Recruiting (MTR) Program is an integral part of the effort to eliminate the educational achievement gap between minority students and their non-minority peers.

The lack of minority representation in the educational field is a matter of concern for urban, suburban and rural school districts.

Although minority students account for over a third of Connecticut's public school students, only 7 percent of the state's teachers and 2 percent of the administrators in Connecticut's public schools are minorities.

Forty percent of Connecticut public school students will never have a teacher who is not white. It is important that all children have access to positive role models from a variety of backgrounds in order to be successful in an increasingly global society.
The Capitol Region Education Council (CREC) Minority Teacher Recruiting (MTR) Program is a product of the combined efforts of approximately 25 school districts in Greater Hartford. It is an integral part of an overall effort to increase the numbers of African American, Hispanic/ Latino, Native American, and Asian American teachers and administrators in the region's public schools. Program services assist schools to recruit, hire and retain a diverse teaching and administrative staff that more closely represents the diversity of the student population.
The following districts voluntarily participate in the CREC MTR program:
Berlin
Bloomfield
Bristol
Canton
CREC Magnet Schools and Programs
CT Technical High School System
East Hartford
Ellington
Farmington
Granby
Hartford
Manchester
Newington
Simsbury
Vernon
West Hartford
Wethersfield
Windsor