About American Heart Association CPR and First Aid Training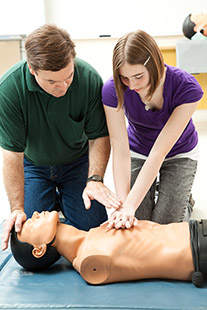 The American Heart Association's emergency cardiovascular care (ECC) programs deliver a dynamic message of hope — the hope of saving lives. New treatments have improved the possibility of survival from cardiovascular emergencies, cardiac arrest, and stroke. These new treatments offer the hope of improved quality of life for people who suffer these events.

Increasing public awareness of the importance of early intervention and ensuring greater public access to defibrillation will save many lives. ECC programs train more than 12 million people every year by educating healthcare providers, caregivers, and the general public on how to respond to these emergencies.
Certified CPR and First Aide instructors offer several classes annually. Each class is three hours. Re-certification is required every two years.
Why Learn CPR?
Cardiac arrests are more common than you think, and they can happen to anyone at any time. Nearly 383,000 out-of-hospital sudden cardiac arrests occur annually, and 88 percent of cardiac arrests occur at home. Many victims appear healthy with no known heart disease or other risk factors.