Contact
Related Services
Soundbridge Early Learning Center
About Soundbridge Birth to Three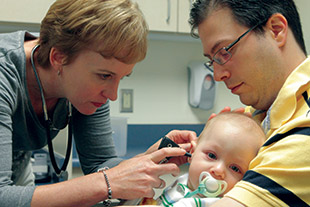 The Soundbridge Birth to Three program specializes in working with families to help their children with hearing loss develop listening and spoken language skills. CREC supports the Connecticut Birth to Three System's model of parent choice for mode of communication.

Comprehensive services are provided by teachers of the hearing impaired, cochlear implant specialists, auditory-verbal therapists, physical and occupational therapists. Soundbridge provides diagnostic therapy aimed at helping parents help their children develop listening and talking abilities, as well as parent guidance and support.
Services Offered
Audiological services such as assessment, hearing aid evaluation, and dispensing are provided at Soundbridge in Wethersfield, or if the family lives at a great distance from Soundbridge, at a clinic near the family's home. Audiological support services for children who have cochlear implants include mapping and technology support.
Home-based services that consist of ongoing visits by a teacher of the hearing impaired. Materials and curricula from a number of nationally known programs are utilized to help parents guide their child's development of listening, language, and speech abilities.
Cochlear implant therapy that is available for children who are potential implant candidates and for those who have been implanted. A trained and experienced cochlear implant habilitation specialist works with the child, family, and implant center throughout pre and post implant evaluation.
Parent Support
For all parents Soundbridge offers a parent-to-parent network, a parent-tot group, information about other support groups, and counseling services as appropriate.