Menu
Contact
RSCO Lottery
The Late RSCO application process begins April 5th, 2021
Testimonials
"The Open Choice program has helped me get ready for the real world and prepare me for college. At Wethersfield High School, the academics were very strong and they wanted to make sure all their students did well, so whatever help you needed they gave you, and they wanted to make sure that you could reach the highest level of achievement."
- Open Choice Alumna
Wethersfield Public Schools
Professional Development
Hartford Region Open Choice provides professional development...
tailored to meet your needs
in your district
utilizing content area experts
for low, or in some cases, no cost
online or in person
See What Open Choice Can Do for You!
To inquire about any of our Professional Development services, contact the Open Choice Office at openchoice@crec.org or (860) 524-4010
Current Professional Development Offerings
School Culture and Climate
Cultural Proficiency
School Culture and Climate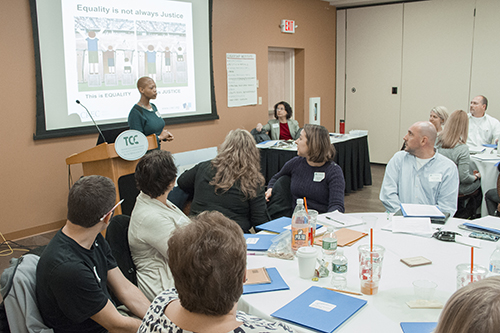 Balanced and Restorative Discipline
This workshop will examine the history of restorative practices, ground participants within a common language, examine current disciplinary practices and statistics, explore foundational tenets of the model and review restorative practices available for use in the school setting.
Bullying
This workshop will discuss legal responsibilities for schools regarding bullying and harassment, identify specific roles and responsibilities, report on current statistics regarding the number of bullying and harassment incidents in schools grades Pre-K through twelve, identify strategies for preventing incidents of bullying and harassment and discuss the cross-walk between bullying and school culture and climate.
Collecting, Analyzing, Graphing and Utilizing Student Data
This workshop will provide participants with a review of the X and Y axes, define baseline, aim line and trend line data, provide opportunity to practice graphing data and discuss how to utilize data to develop effective student interventions.
De-Escalation of Student Behavior
This workshop will explore possible causes of student misbehavior, identify prevention techniques, examine the cycle of escalating behavior and strategies for breaking the cycle and discuss intervention techniques that do and do not work.
First Aid Mental Health
This international and interactive training program provides participants with an understanding of mental health disorders, provides information on prevalence rates and age of onset and teaches audience members how to utilize a standard procedure to intervene with students in crisis.
Restorative Conferencing
The precursor for this workshop is Balanced and Restorative Discipline. Participants will be provided with the agenda for a facilitated conference, acquire the skills necessary to facilitate a restorative conference and have an opportunity to role play running a conference.
Special Education and 504: A Primer
This workshop will review the history and foundational tenets of the Individuals with Disabilities Education Act and Section 504 of the Rehabilitation Act of 1973, an understanding of PPT and 504 team meetings and a discussion of the roles and responsibilities of all team members.
Understanding Trauma and its Impact on Education
This workshop will define trauma, provide participants with facts regarding prevalence rates, review the latest brain research, explore the impact of trauma on learning, behavior and social development, reveal promising strategies for use in schools and share CT clinical resources.
Understanding your Role and Responsibilities as a Member of a PPT: A Primer for Paraprofessionals
In keeping with recent changes in CT education legislation, parents may now invite paraprofessionals to sit in on PPTs. This workshop with provide paraprofessionals with an understanding of the legal guidelines regarding PPTs and provide guidance regarding their participation in the process.
Cultural Proficiency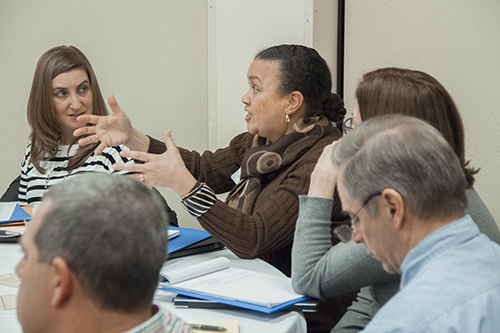 Storytelling as an Empathy-building Tool
(90 – 120 minutes)
This facilitated dialogue will help school staff experience the trust-building and increased understanding of the 'other' that occurs through storytelling. An overview of the complete dialogue process (of which storytelling is an early stage component) and how it is being used to increase parent engagement and strengthen staff/student relationships also will be discussed.
Implicit Bias in Education
(90 minutes)
Participants will learn more about implicit racial bias, the attitudes and stereotypes that affect our understanding, decisions and actions in an unconscious manner. The presentation, readings and discussion will focus on the origins of implicit bias, where and how it surfaces within education settings, the potential impact on student outcomes and strategies to counteract it.
Productively Address Hurtful, Biased Comments or Actions in Elementary/Middle School
(3 hours)
As teachers & school administrators, we need to teach children what to do/say when an incident takes place related to another person's race, ethnicity, religion, ability or another ism. Participants will learn ways to address biased behavior from children within school, along with teaching children what to do or say (if and when appropriate) when they witness instances of prejudice among their peers.
Peeling Back the Layers: Structural Racism within Schools
(90 – 120 minutes)
Analyze racism and further one's understanding of how to use a structural racism lens, shifting focus from individual beliefs to cultural practices and institutional policies that contribute to racial disparities within a school. Participants identify examples within school & create action ideas to address those challenges.
Addressing Increased Conflicts through Civil Discourse in the Classroom
(90 – 120 minutes)
Combative political dynamics has heightened incivility and stress within schools. According to a national teacher survey conducted during 2017 by UCLA's Institute for Democracy, Education and Access, this negativity has and continues to impact student learning. This session serves as an orientation to another professional development option - full day facilitator training - highlighting techniques to facilitate a civil discourse of differing student perspectives. Learn about facilitation strategies that include conversation guidelines, storytelling, journaling and active listening exercises, which help youth to respectfully reflect upon and discuss race, immigration, political and religious views, and other potentially polarizing topics. Join us to discuss facilitation techniques that help convert a confrontational exchange into a teachable moment.
Facilitating a Civil Discourse in the Classroom
(7½ hours)
Participants learn & practice various strategies that help ensure a civil discourse about race in the classroom. Following self-assessment of one's own vulnerabilities and strengths, participants will identify the challenges associated with facilitating race dialogues, as well as effective ways to use dialogues as a tool to respond to a racial incident within the school. Ways to turn a classroom conversation that moves into race into a teachable moment also will be covered. For planned conversations, race dialogue prep work, along with strategies for opening the conversation and techniques to facilitate leaning into the discomfort during the dialogue and diffusing tensions will be discussed. Teachers who complete this session will feel better prepared to facilitate race dialogues in the classroom and address a host of other isms.
Race Dialogues
(Two full days, or five weekly 90 – 120 minute sessions)
The challenges confronting education — the gap in student achievement, racial, ethnic, religious tensions within schools, and more — continue to grow. Through dialogues, staff, students and families from diverse backgrounds in schools throughout the country have built a foundation of trust, increased their understanding of each other's experiences, reflected upon existing challenges and worked together on solutions. Ideally, several district staff will have completed full day facilitator training, then co-facilitate the dialogues with a CREC staff member.
School and District Level Book Club
Before addressing racial inequities within schools, educators need to better understand the African American experience from 1619 through today. During facilitated book discussions, staff will reflect on African American history, structural racism and its role within education, or a first-person account of the African American experience by a black father speaking to his son. The hope is for discussions to impact staff perspectives, influencing staff practices in classrooms and policies district-wide.
Among the materials available for facilitated book discussions this year:
White Fragility by Robin DeAngelo
The Case for Reparations by Ta-NeHisi Coates
Waking Up White by Debby Irving
Between the World and Me by Ta-Nehisi Coates
The 1619 Project a New York Times Sunday magazine focused on 400 years of American slavery
How to be an Antiracist by Ibram X. Kendi