What is best practice for ensuring proper functioning of devices?
Following best practice, Soundbridge aims to partner with district and school personnel, families, and students to ensure proper functioning of devices (i.e., personal devices and Remote Microphone Hearing Assistive Technology). As depicted in the graphic below, this can be achieved by school personnel, families, and, when appropriate, the student, conducting daily visual inspection of devices and cleaning, pairing devices, performing listening checks, and keeping devices charged. When batteries are required for devices, then weekly responsibilities include changing them and ensuring that a supply remains. When staff are new to devices or require a refresher, Soundbridge staff are available to conduct trainings.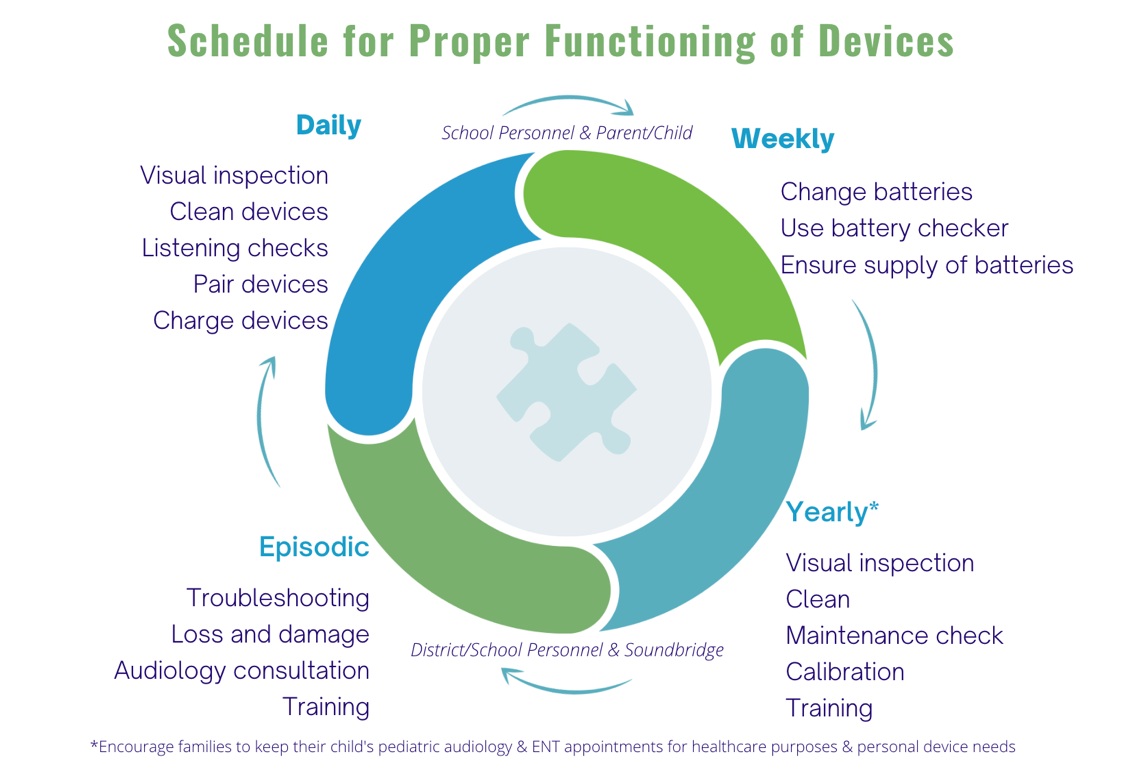 For those unplanned or non-routine events, Soundbridge provides support to district and school personnel in episodic care, loss & damage, repair, and troubleshooting to ensure availability & proper functioning of devices.
Contact SoundbridgeAudiology@crec.org when:
Daily checks reveal that a device is not, or is suspected of not, functioning properly
Support is needed to pair a device
The student acquires new personal devices that require a change in RM HAT
A device is lost or damaged
A team member needs training or a refresher to check that a student's personal devices & RM HAT are functioning properly
Equipment recommendations are needed to conduct daily device checks
Changes are suspected in student's perception of sounds
Student has distinct needs that require additional support to ensure devices are cleaned & functioning properly
Yearly, RM HAT devices should be inspected, cleaned, checked, and calibrated. Soundbridge Audiology can assist district personnel in their decision making for processing their district owned devices for this service.
What is aural habilitation/rehabilitation?
Aural habilitation/rehabilitation therapy is an intervention for children with hearing loss aimed to maximize the benefit they receive from their cochlear implants and/or hearing aids. Habilitation applies to children who have not yet developed spoken language skills. Rehabilitation is applicable for children who need to relearn listening and language skills after implantation. Through aural habilitation/rehabilitation, our CREC Soundbridge Teachers of the Deaf/Hard of Hearing aim to facilitate student's listening, language, and communication. In addition, we focus on school personnel and students better understanding hearing loss and associated challenges, as well as management of audiological devices.
Should our district rent or own RM Hearing Assistive Technology devices?
There are benefits and downsides that each district should weigh when determining whether to rent or purchase RM HAT devices.
Rental Benefits
Stay up to date with current technology
Includes inventory of assigned devices; repairs, loss & damage claims; and oversight of annual maintenance
Replacement of device when lost, damaged, or in need of repair
Predictable monthly expenses
Short term option when trialing a device or ensuring availability of device when district owned device is in for repair or lost or new technology is required
Rental Downsides
Greater cost in the long run
Paying for monthly rental even when student opting not to use it
Purchasing Benefits
Easy purchasing when educational audiologist provides recommendation & quote for your district business services to process
Build inventory of devices that can be re-assigned to other students per recommendation by educational audiologist
Have control over loss & damage claims, repairs, annual maintenance of devices, and location of devices not in use
When district owned devices kept in district, the school team can re-assign district owned devices per recommendation by educational audiologist
Purchasing Downsides
Might be slowed by district business services when processing
Initial outlay of cost may be too much
Will require district to maintain, or secure support for, inventory of devices that can be re-assigned to other students per recommendation by educational audiologist
Will require knowledge of warrantee, annual maintenance, & method for collecting/distributing devices at the conclusion and start of the school year or ESY program
Eventually stuck with outdated devices