About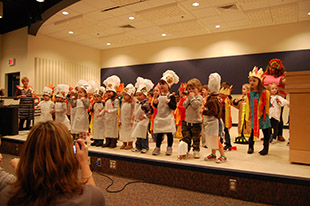 Summer Preschool Program/Summer Language and Literacy Institute
Soundbridge provides individualized summer programs for preschool, elementary, and secondary level students who need work in maintaining their spoken language through listening. Instruction is given in intensive small groups using summer themes and age-appropriate activities. Our Summer Program is held in July, Monday - Thursday (4 days/week).
Auditory Verbal Therapy
At Soundbridge, Auditory-Verbal Therapy is an early intervention program for children with hearing loss, from birth through six years of age. In Soundbridge Auditory-Verbal Therapy, a certified Auditory-Verbal Therapist (AVT) presents individually tailored instruction to the child with sharing loss and his/her parents or caregivers. The child is accompanied to all sessions by a parent or caregiver who participates fully in the sessions, and has the responsibility to implement auditory-verbal interacting with the child at home, throughout all of the child's waking hours.
The Auditory-Verbal focus is on learning to listen, understand, and use spoken language. Since the aim is to integrate listening into the child's total personality, the AVT works together with the child's audiologist to be sure that the child's hearing aids or cochlear implant(s) are always providing optimal access to sound. Sessions (1 hour in length) usually take place once or twice per week, with part of many sessions carried out in partnership with the audiologist.
Individual Aural Habilitation Sessions
When the need for individual instruction is determined by the PPT, the student can be seen by a teacher of the hearing-impaired for any number of sessions per week, from once per week through 5 times per week. These sessions are focused on the maintenance of auditory, language, speech, and advocacy abilities. Individual sessions can take place at Soundbridge or in the student's home. Sessions are 60 minutes in length, and usually occur in the month of July, but can be extended through August, at PPT request.