Menu
Contact
Know the Plan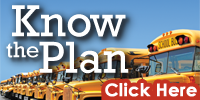 Frequently Asked Questions
Will my child be required to wear a mask for the entire length of route?
Mask wearing is optional for passengers on RSCO Transportation vehicles.
What time should my student arrive at the bus stop?
Students should be at their designated bus stop at least 10 minutes prior to the scheduled pick up time. Buses are allowed up to 10 minutes before or after their scheduled times. This window is allowed to accommodate for traffic, weather, and other occurrences that may alter a schedule. If buses are within the 10 minute window, they will not wait.
What if the bus is late or early?
If the bus arrives more than 10 minutes earlier or later than the scheduled time, please call CREC at 860-524-4077 or fill out a complaint report online.
Can parents ride the bus with their child?
No, parents are not allowed on the bus. The bus driver and monitor have to pass extensive record checks to be on the bus with children. CREC does not want to potentially endanger students by allowing unknown people on the bus.
How do I change my child's bus stop?
CREC magnet school parents or Choice parents can call the transportation office at 860-524-4077 or fill out the online request for change. Hartford magnet school parents should contact the school and the school will contact CREC.
How do I find out my child's bus route information?
The routes are posted online or you can call the transportation office. The Transportation Office will notify families of a significant delay in their bus schedule through School Messenger, an automated alert system. Please make sure your contact information is up to date with the Transportation Office.
What if my child left something on the bus?
The driver usually holds anything they find on the bus for a few days. Your student should ask the driver for the lost item. You can also call the bus company or the transportation office.
What if my child gets in trouble on the bus?
Drivers will submit discipline referrals to the schools when students misbehave on the bus. The school will investigate and administer discipline. The driver may assign seats.